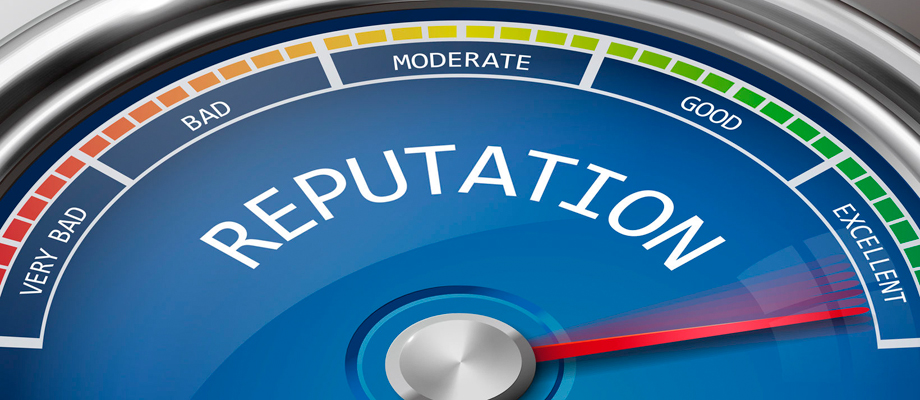 Het Reputation Quotient model
Het Reputation Quotient model werd door Fombrun, Gardberg en Sever in 2000 voor het eerst gepubliceerd in het Journal of Brand Mana­gement. In het model worden zes dimensies van corporate reputation onder­scheiden, gemeten over 20 kenmerken. Het model is ontstaan op basis van desk research, vragenlijstonderzoeken in diverse branches en focusgroepen. Het beoogt de reputatie van een organisatie bij meerdere stakeholder groepen te meten.
Zes dimensies
Hieronder lichten we de zes dimensies van het Reputation Quotient model toe. We doen dit aan de hand van de oorspronkelijke Engelstalige kenmerken:
Emotionele aantrekkelijkheid ('emotional appeal'):

Sympathie: I have a good feeling about the company
Vertrouwen: I trust this company
Waardering en respect: I admire and respect the company

Producten en diensten ('products and services'):

Staat garant voor: Stands behind its products and services
Innovatief: Develops innovative products and services
Kwaliteit: Offers high quality products and services
Prijs/ waarde verhouding: Offers products and services that are good value for the money

Visie en leiderschap ('vision and leadership'):

Inspirerende visie: Has a clear vision for its future
Sterk leiderschap: Has excellent leadership
Responsief: Recognises and takes advantage of market opportunities

Werkomgeving ('workplace environment'):

Goed georganiseerd: Is well-managed
Goede werkgever: Looks like a good company to work for
Goede werkomgeving: Looks like a company that would have good employees

Maatschappelijke verantwoordelijkheid ('social and environmental responsibility'):

Ondersteunt goede doelen: Supports good causes
Milieuvriendelijkheid: Is an environmental responsible company
Moreel verantwoord gedrag: Maintains high standards in the way it treats people

Financiële performance ('financial performance'):

Sterke resultaten: Has a strong record of profitability
Laag risico: Looks like a low risk investment
Competitief slagvaardig: Tends to outperform its competitors
Groeipotentieel: Looks like a company with strong prospects for future growth
Samenvattende figuur
Het Reputation Quotient model is door Van Riel naar de Nederlandse context vertaald. In figuur 1 zijn de Nederlandse begrippen samengevat.
Figuur 1: De Nederlandse versie van het Reputation Quotient model
Referentie(s)
Fombrun, C.J., Gardberg, N.A., Sever, J.M. (2000), The reputation quotient: a multi-stakeholder measure of corporate reputation. Journal of Brand Management, vol.7, no.4, p.241-255.
Fombrun, C.J., Riel, C.B.M. van (2004), Reputatiemanagement (hoe succesvolle ondernemingen bouwen aan sterke reputaties). Pearson Education Benelux, Amsterdam.